Air-bag systems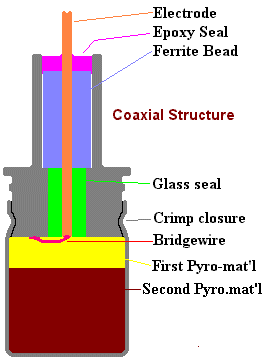 The air-bag systems used in automobile safety are tested to tight standards, not only for normal operation, but also for marginal conditions. A crucial component is the igniter. For initiation, the way it starts the rapid burning (deflagration, sounds like an explosion!) of the initiating pyrotechnic material depends on the electrical heat input to a little bridge-wire (like an tiny electrical fuse) and its transfer to the adjoining heat sensitive energetic material.
McCann has developed mathematical models to investigate a number aspects of this initiation process.
I modelled the normal high current, rapid heat up phase and the effect of having different quality of compaction of materials and hence of heat transfer from wire to pyro-material.
...investigated the effects of having electrostatic discharges (ESD) go through the bridgewire. Normally a safe event, we checked on marginal conditions of charge magnitude and wire deformities of these pico-second scale events.
...investigated the way the devices would behave in low current tests (electro-thermal response) intended to evaluate heat transfer capability between bridge-wire and pyro-materials.
...looked at marginal sensitivity tests in which the battery power to drive it was assumed low and marginal, so we could be sure they would operate at the lowest feasible electrical voltage conditions.
...investigated the heat transfer into the devices while being soldered (at the crimp closure) to make sure the temperature in the vicinity of the bridgewire did not get high enough to alter the properties of the pyrotechnic materials.
...checked the statistical properties of the test procedures (Bruceton (LD50) and Langlie tests.) to show how much variation was due to testing itself, apart from the properties of the devices.
...analysed and tested the high frequency (RF) protection against injected signals provided by the ferrite filter bead.