Gas flow allocation, production, storage.
The job started out as a project in operations research to model the annual usage patterns of a toxic gas in a big chemicals complex, to work out policies for the balance of production, demand and storage, with the over-riding constraint that the gas could never be allowed to escape because of the hazard it would create for the population nearby. Production and simultaneous usage would rarely balance without intervention and storage was expensive and limited. To make matters more difficult, the available electric power, a key input to the reaction process to make the gas, from the adjacent utility company varied as consumer demand in the towns nearby varied. Someone had to be allocating flows and advising plant and process operators around the site on a minute by minute basis round the clock.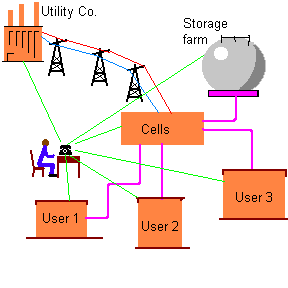 To represent this person's role in the model, McCann devised a simple allocation algorithm, like a little LP (linear programming) program. On checking its validity with the production management, the modellers were asked why on earth they hadn't produced this programme before! Two people had already been retired from the job with nervous breakdowns.
So the project was diverted. On-line access to a computer, (before the days of PCs) made the algorithm available all the time. No longer constrained to work well within the production limits to allow room for movement when conditions changed, it was possible to operate the whole production complex at higher levels of production, close to optimal, without stress and with reduced hazards due to mistakes. Production went up by 10% on the first shift on which it was used.
Your Problem?
Maybe you have a problem in which some material can only be used as it is made, not realistically be stored. Maybe you have a problem in which there is a cross-over between an operations research sort of question and more detailed engineering issues. Chances are that I can help put numbers to it and give you a rational basis for design and decision making.
All you need to do is call or email, in confidence of course. There's no charge for finding out if I can help.
Links in website:
Home/Index Page
Invitation. McCann can help if you have a design or operational problem that needs some technical support that is outside your team's experience, some quantitative assessment of what is really the cause of the difficulties, some design alternatives or just a fresh look by an intelligent interrogator.
If you have a problem with the behaviour of a market sector, plant, process or item of equipment and would like to get a quantitative handle on it to improve yield or optimise performance, then contact me. I'm always ready to give a little time to discuss a new puzzle, in confidence, of course. We'll only worry about fees when there is some defined work. I can be flexible about how I work with you.
Top
Dr M.J.McCann,
POB 902,
Chadds Ford PA
19317 USA.
T: 1 302 654-2953 (Land)
M: 1 302 377-1508 (Cell)
E: mjmccann@iee.org