Automated Production Line.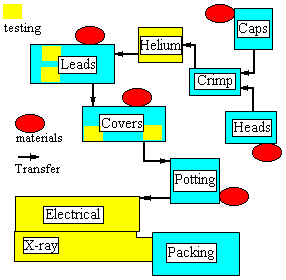 I had a client who wanted to understand how his new (semi) automated production (transfer) line for fabrication of small items would perform over a period of a few shifts, depending on the way it was managed at the hour by hour (or less) level. The idea was not to provide a statistical evaluation of the long run performance (though it turns out we could do that) but to show behaviour and let the team commissioning the production line and running it see the effect of their decisions. There had been a simulation (based on earlier commercial software) of the plant made up before it was built, but after some difficulty getting it working, we found that it missed some absolutely key features of the operations, meaning that it really didn't serve as a plant model at all. I then extended a preliminary model, which had been used to validate data, into a running simulation.
As the commissioning progressed, we needed to know how many extra (expensive) part carriers we should purchase. The simulation answered the question, showing how the productivity would be affected by being even one carrier short.
Although individual operational steps were short, the transfer of items through the plant took a long time, and we were able to use the model to look at choices about when to bring operating crew on shift in various parts of the plant needing some human intervention.
By preloading the production line with parts at various stages we could look at the behaviour of parts of the line separately. We could look at the effects of yield on propagation times. We could, during a run, stop and start bits of equipment to see the effects of decisions to repair or to modify settings. In effect we had a model of the production line on which supervisors could be trained and operational and equipment choices could be evaluated.
By making the model freezable, we could stop at some interesting point then try various alternative rescue sequences, by going back to the freeze point and replaying with alternative management choices.
Petri Net Simulation Tool.
I then went on to make the original model into a general purpose discrete event simulation tool, which can be used for any Operations Research (OR) modelling for which a timed monochromatic Petri Net model is appropriate. The latest version merges Discrete Event and Continuous time (analogue) simulation tools into one, and it's freely available for download.