The Process.
In a process of making glass to metal seals, the components are assembled with the glass in the form of small items (rings in this case) placed in or around the metal parts. The components go through a furnace where the intention is to let the glass soften just sufficiently that it flows gently into place, making a good seal to the metal.
It is important that the glass doesn't become too runny, nor stay too stiff. To make a lot of little parts at once, a carrier may be used that takes them through the furnace (or lehr).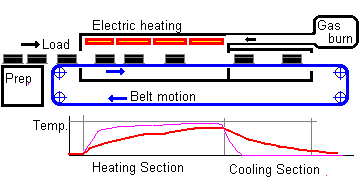 Frequently the process will be almost continuous in that the carriers move on a belt through the furnace and are subjected to a gradually changing temperature as they pass. If all goes well, the temperature reached by the crucial glass bits and the adjacent metal will be just right to let the glass slump into place.
Graphite Carriers
The carriers are made of graphite which will stand the high temperatures, but only if there is no oxygen left in the air where they are hot, otherwise they would burn up. The gas burner therefore feeds air with no oxygen left in it to the heating zone where electrical heat does the rest of the job of controlling temperature.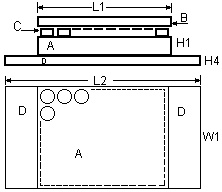 A Simulation
The mathematical model I made for this was a set of differential equations for subregions of the carrier, subjected to an incident environmental temperature which we had found by measuring the temperature of a thermocouple passed along the belt (which was then stopped before the thermocouple leads snapped).
Within the graphite carrier, I modelled the heat transfer into the parts and thus established the temperature of the glass and metal materials as a function of time (related to distance by the belt speed).
Glass Viscosity Effect
By calculating the viscosity of the glass and using that as a measure of how runny it had become we were able to see the crucial point at which it softened enough to flow and then see how changes in the temperature profile affected the potential for movement, related to reciprocal viscosity.