Manufacturing a polymer in a batch reactor.
Exothermic reaction wasn't the whole story

A exothermic batch reaction, to make a polymer, took place in a large stirred (constant speed) vessel (Stirred tank reactor, STR). It had a cooling system to take away the heat from the exothermic reaction. Since increased temperature strongly influenced the reaction rate, it thereby controlled the heat production. However, control of the cooling was turning out to be more difficult than expected. Something in there was changing the temperature.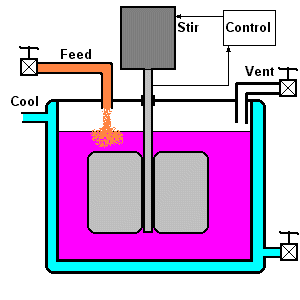 My investigation took account of all the energy flows (heat and material balance) from the reaction and its stoichiometry and soon turned up the observation that the current flowing into the stirrer motor was varying substantially during the batch. Looking at it as an electrical question, it was apparent that the energy input from the stirrer was the culprit. The speed control was very effective and was overcoming the effects of varying viscosity during the polymerisation and so substantial power variation was coming not from the reaction alone, but from the external regulation system! Once that was validated as cause, the control design became a lot simpler.
I've dealt with many batch reaction processes, including some where the process has to go through repeated cycles, forcing it to meet cyclic boundary conditions so that each sucessive batch is the same. If you have a problem with the behaviour of a batch process or CSTR and would like to get a quantitative handle on it to improve yield or optimise performance, then please contact me.
Links in website:
Home/Index Page
Invitation. McCann can help if you have a design or operational problem that needs some technical support that is outside your team's experience, some quantitative assessment of what is really the cause of the difficulties, some design alternatives or just a fresh look by an intelligent interrogator.
If you have a problem with the behaviour of a market sector, plant, process or item of equipment and would like to get a quantitative handle on it to improve yield or optimise performance, then contact me. I'm always ready to give a little time to discuss a new puzzle, in confidence, of course. We'll only worry about fees when there is some defined work. I can be flexible about how I work with you.
Top
Dr M.J.McCann,
POB 902,
Chadds Ford PA
19317 USA.
T: 1 302 654-2953
M: 1 302 377-1508 (Cell)
E: mjmccann@iee.org