Press and Crimp; Design and Operation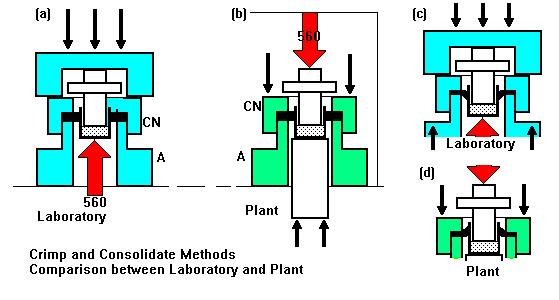 It works, but how?
There are lots of cases where people can make something work, but don't know how it works. The problem for them comes when something goes wrong. Then they find out if they understand it.
Here's a mechanical engineering example.
A hydraulic, press and crimp operation, developed in the lab, was replicated for a production plant, but it didn't properly compress the contents.
The engineers who built the replica were sure it was a true one. But my careful analysis with a mathematical model showed that the details of the closing sequence and the previously ignored shear forces on the elastomeric crimp ring made a big difference to what went on inside. The model was able to explain the interior behaviour, not accessible to instrumentation. The result was a small design change, but a big improvement in results.
How to get help
If you have a problem in design or operation of a plant or process that might yield to some rational, independent quantified analysis, then please contact me. I'm always ready to give a bit of help, in confidence of course, to see if mutual benefit will come from further collaboration.
Links in website:
Home/Index Page
Invitation. McCann can help if you have a design or operational problem that needs some technical support that is outside your team's experience, some quantitative assessment of what is really the cause of the difficulties, some design alternatives or just a fresh look by an intelligent interrogator.
If you have a problem with the behaviour of a market sector, plant, process or item of equipment and would like to get a quantitative handle on it to improve yield or optimise performance, then contact me. I'm always ready to give a little time to discuss a new puzzle, in confidence, of course. We'll only worry about fees when there is some defined work. I can be flexible about how I work with you.
Top
Dr M.J.McCann,
POB 902,
Chadds Ford PA
19317 USA.
T: 1 302 654-2953
M: 1 302 377-1508 (Cell)
E: mjmccann@iee.org